Three Knights Megazord is the primary Megazord of the Chivalry Force Rangers.
Zords
Tyrano
The Tyrano Spirit is Samuel's zord and is based on a T-Rex. It can form its own independent Tyrano Warrior mode as well form the base of almost all Megazord Combinations.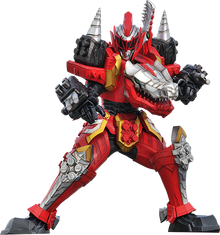 Tricera Spirit

The Tricera Spirit is Rodrigo's zord. It is based off a Triceratops. It forms the right arm of Three Knights and all of Chivalry Force Megazord's modes. It is the header and right arm of Three Knights Blue. It is the right shoulder only of Three Knights Green, Three Knights Black, Packy Megazord, and the left for Three Knights Pink.


Ankylo Spirit

The Ankylo Spirit is Gwen's zord. It is based off a Ankylosaurs. It always forms the Left arm (or at least shoulder) when usd. It is also the header of Three Knights Pink.


Gargano Spirit
The Gargano Spirit is Aelin's zord. It is based off a Saber-tooth Tiger, but is stated to be a Gorgonopsian in show. It is weaponry for Three Knights Green, and specifically the weapon of Chivalry Force Megazord.

Stego Spirit

The Stego Spirit is Tukcer's Zord. It is based off a Stegosaurus. Like the Gargano Spirit, its is an artillery-based zord.
Alternative Combinations
Three Knights Blue
Three Knights Pink
Three Knights Gargano Artillery
Three Knights Stego Artillery
Chivalry Force Megazord Mode Blue
Chivalry Force Megazord Mode Black
Notes
This is the first dinosaur team with a proto-mammal and green cat-themed zord
See Also
Community content is available under
CC-BY-SA
unless otherwise noted.