"May the power protect you."
This series has been completed. No other edits are to be made to this page nor the pages that correspond with this series.
This article is about a/an series entry 46th in the Super Sentai series.
Seiken Sentai Ryukenger (聖剣戦隊リュウケンジャー, Seiken Sentai Ryuukenjā?), translated as Holy Sword Squadron Dragon Blade Ranger, is the 46th installment of Super Sentai series.
The show's celebrating post of Super Sentai's 45th anniversary and the theme is an animals (mythical creatures, modern animals and dinosaurs), knights and fantasy motif, which its show was inspired from Kamen Rider series, Kamen Rider Saber

.
The series pays a homage to Sentai Series pre-Zyuranger and, unlike the recent Sentai series, will include more mature tones and will have serial-like storylines usually found in Japanese television dramas.
It will premiere on the Super Hero Time

block alongside Kamen Rider Revice

after Kikai Sentai Zenkaiger concludes in February 2022. After Revice's finale, Kamen Rider Devdas

joined Ryukenger in the Super Hero Time block.
In 2022, the show will be dubbed in South Korea as Power Rangers Holy Force (파워레인저 홀리포스 Pawoleinjeo Holliposeu).
Props and footage from Ryukenger was use in its Power Rangers adaptation, Power Rangers Sacred Surge.
Production
On August 22, 2021, Toei announced the trademark for the series. The characters and most cast were announced the following month. Toei announced on mid-November that year, that the season would start filming as early as December 2021, however, due to the recent COVID-19 pandemic, the cast and crew would have to follow guidelines, suggested by Toei during filming of Kikai Sentai Zenkaiger and Kamen Rider Revice

earlier that year, to protect themselves and to prevent the spread of the virus.
Toei announced production will start in early-January, 2022. On October 27, 2021, Toei announced the series' main villain along with other characters the following weeks. By November 3, 2021, Toei revealed that filming for Ryukenger would commence on late-November.
On December 20th, 2021, Toei held a press conference for the series. Producer Chihiro Inoue confirmed that due to the Japan currently in a state of emergency due to the increase in COVID cases.
Production and filming of Ryukenger was completed and wrapped up on December 31st, 2022.
Impact of the COVID-19 pandemic
On December 14th, 2021, Mashiro Sakamoto, who portrays Hinami Akamichi had tested positive for COVID-19 and recovered in the end of December.
On January 19th, 2022, it was reported that Mayuu Yokota, who portrays Ayaka Ogami, also had tested positive for COVID-19 after experiencing symptoms and stopped filming the weekend prior.
After Mayuu Yokota has recovered, it was reported that Yoshinori Kanemoto, who portrays Eiji Kanemoto, also tested positive for COVID-19 in January 25th. None of the other cast or crew members were reported to have been infected or displayed any symptoms whatsoever. By February, Yoshinori confirmed that he had recovered and would continue their one-week self-quarantine at home and the filming had to resumed in half of February.
On April 26th, 2022, Asami Kanemoto's actress Sana Minatozaki was reportedly tested positive for COVID-19 and quarantine in Japan until May.
Plot
"The ancient servants, calling for the help to the five heroes, including the novelist Eiji Kanemoto. With the power of the holy swords, they must work together to defeat the enemies at once! In the name of the justice! (

小説家の金本英二を含む5人の英雄に助けを求める古代の使用人。 聖剣の力で、敵を一気に倒すために協力しなければなりません! 正義の名において!

Shōsetsuka no Kanemoto Eiji o fukumu 5-ri no eiyū ni tasuke o motomeru kodai no shiyōnin. Seiken no chikara de, teki o ikkini taosu tame ni kyōryoku shinakereba narimasen! Seigi no nanioite!

?

)"
—Narrator
Long ago, the ancient servants named Covenant of the Realm has sealed their enemies, Emperor Megidan for 500 years. However, a group of traitors working for the Mansion of the Damned tried to invade the World of Covenant for themselves. As a result, the seal has been vanished and Emperor Megidan has been disappeared for 500 years.
Fast-forward to present day, young novelist Eiji Kanemoto has been having dreams of another dimension where he witnessed swordsmens and monsters coming out of a storybook, and a "mysterious girl from another world" calling for help. By scouting the four other Ryukengers, they formed the team. Recalling the dream sends chills down their spine, not knowing anything at all.
One day, a strange phenomenon has been happened, it cause the entire nation into chaos. Would they save their world from Emperor Megidan after he returns for 500 years? The revelation has begun!
Characters
Rangers
Ryukengers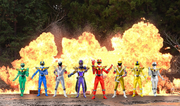 Temporary Rangers
| | |
| --- | --- |
| Ryuken Red | Eiji Kanemoto/Vice |
Other Heroes
Other Villains
Allies
Humans
Others

Nina Hirai

Sanae Kanemoto

Shohei Hidari
Covenant of the Realm
Kamen Rider's Allies
Legendary Allies
Villains
Leader
Emperor Megidan (1-50)

Emperor Zentaron

(Ryukenger vs. Zenkaiger)

Emperor Demolos

(Go-Speeders vs. Ryukenger)
Generals
Megadons Phase 1
Megadons Phase 2
Super Planarian Megadon
Miho Kijino (Ryukenger vs. Donbrothers)
Super Smilodon Megadon
Kairi Hama (26)
Super Kong Megadon
Kazuha (31-32)
Super Chameleon Megadon

Saruichi

(35)
Super Golem Megadon

Yasuhiro Kawanishi

(41)
Super Bee Megadon

Amaya Kurosaki

(46)
Super Cheetah Megadon

Ryutaro Hayami

(Ryukenger vs. Zenkaiger)
Super Jaguar Megadon

Chitose Katada

(spin-off)
Super Stingray Megadon

Daichi Kuroda

(spin-off)
Super Mandrill Megadon

TBA

(Baridenger vs. Revice)
Super Wolf Megadon
Reiichiro Kageyama (Ryukenger RETURNS)
Grunts
Others
Others
Leaders
Generals
Monsters
Grunts/Footsoldiers
Others
Arsenal
Transformation Devices
Sidearms
Multi-Use Devices
Individual Weapons and Team Weapons
Cockpit Control Devices
Other Devices
Mecha
Legend:◆ piloted mecha,  2-person mecha, ❖ auxiliary mecha, ● other mecha
Main
Auxiliary
Sacred Beast Pride Dragon

❖

Sacred Beast Legacy Dragon

❖
Mashiguards
Don Mashiguard

❖

Zenkai Mashiguard

❖

Kiramai Mashiguard

❖

Ryusoul Mashiguard

❖

Kyuren Mashiguard

❖
Collaborations
Don Seiken Gattai Don Ryukenjin

◆●●●●

Seiken Zenkai Gattai Ryuken ZenkaiOh

◆●●●●
Brave Dragon ❖
Additional Formations
Seiken Gattai Ryukenjin
Episodes
Ryukenger episodes have no special distinction, as they referred to just as Chapter X (第X章, Dai-X-Shō?). In this case, the second-to-last episode being called the Final Chapter (最終章, Saishūshō?), with the season finale instead being labelled as "Special Issue" (増刊号, Zōkan-gō?).
Movies
Special
Cancelled movies/specials
Ryukenger + Zenkaiger + Kiramager: Super Sentai Legacy Generation (リュウケンジャー + ゼンカイジャー + キラメイジャー: スーパー戦隊 レガシー・ジェネレーション

Ryuukenjā + Zenkaijā + Kirameijā: Sūpā Sentai Regashī Jenerēshon

?

, Cancelled)
Revice + Ryukenger: Superhero Senki Z (

リバイス + リュウケンジャー: スーパーヒーロー戦記 Z

Ribaisu + Ryuukenjā: Sūpāhīrō Senki Z

?

, Cancelled)
Cast
Main Cast
Guest-Stars
Suit Actors
Staff
Songs
Opening Theme
Ending Songs
Insert Songs
Mecha Themes
Character Themes
Digital Releases
Stage Shows
Seiken Sentai Ryukenger STAGEDOWN: March of Destruction

(

聖剣戦隊リュウケンジャーステージダウン: 破壊の行進

Seiken Sentai Ryuukenjā Sutējidaun: Hakai no Kōshin

?

)
Live Show
Video Release
Japan
Seiken Sentai Ryukenger premiered in Japan on

TV Asahi

on March 6, 2022. Several recap specials aired in place for one weeks before Chapter TBA premiered on January 2023.
Ryukenger was released on three separate Blu-Ray collections on TBA in order.
International
Southeast Asia
Indonesia

Seiken Sentai Ryukenger also premiered in Indonesia on Rajawali TV on November 2022.

Malaysia

Seiken Sentai Ryukenger also premiered in Malaysia on Astro Prima on January 2023 with its original and Malaysian dub.
Ryukenger was released by via Astro Go app and start streaming on spring 2023.

Singapore

Ryukenger was released in English dub and premiered on Channel 5 Okto on April 2023.
Toyline
Trivia/Notes
This is the first Sentai series since its predecessors to have the following:

Since Tokumei Sentai Go-Busters to have sixth Gold and Silver Sentai Rangers.

Also since Tokumei Sentai Go-Busters to have two sixth Sentai instead of one members.

Since Uchuu Sentai Kyuranger to have the series title called out.

The Ryukengers are also the first team since the Kyurangers to have an animal-type mecha.

The series has some inspiration from Kamen Rider Saber.

Coincidentally, both of them have the same head writer, Takuro Fukuda.
The main protagonist are red-colored heroes, had a fire elemental's ability and had a same motif as a dragon.
The both of the series had a closing screen after the end of each episodes.

The series will include some Power Rangers exclusive monsters and villains, especially the ones used in Dino Fury footage.
Ryukenger will not feature the eyecatch after commercial breaks since Mashin Sentai Kiramager.
Ryukenger also will not feature the ending dance since Gosei Sentai Dairanger.
This is the first Super Sentai series since Kaizoku Sentai Gokaiger to be produced by Ishimori Productions.
This is the first Sentai series to have a fantasy-themed Rangers team.
This is the first Sentai series to ever display more than of 20 mechas.
Most of the guest stars are past Kamen Rider/Super Sentai actors or a Japanese idols.
See Also
Adaptations