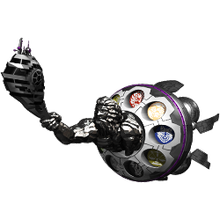 The SS Explorer (Full name: Starship Explorer) is a spaceship and the mother base of Space Patrol Beta and their β-Squad Rangers, carrying the nine Voyager Zords.
It is shown that the Explorer is actually sentient, although it can only say "Orion".
In a bid to eliminate the β-Squad Rangers, Neo Alliance Commander Mothuma plotted to send the Explorer on a direct course to the Sun through the use of his microbial extensions. Though the ship's tolerance for intense heat was pushed to its limit, it was saved just short of destruction once control was restored upon the destruction of Mothuma at the hands of Leo Red and BroBear Aqua.
The Explorer was used to transport half of the β-Squad Rangers to the past. While in the past, Darkspec attacked and caused the Explorer to crash.
Even though the Explorer made it back to the present, it was damaged beyond repair. DECA was heartbroken. The power went out while the others were watching the fight. When the Mega Consumars was about to destroy the Earth, the Explorer suddenly came to life and transported the three onboard to the Cosmo Unizord. The Explorer sacrificed itself to stop the Mega Consumars.

Behind the scenes
Conception