Rescue Sentai Wildranger
Number:
1
Number of episodes:
51
First episode:
New members
Power Rangers Counterpart:
Original airing:
10th of August 2020
Author:
AnimeLover569

Production Order
next
Dobutsuno Sentai Ninjuuger
Rescue Sentai Wildranger (Reskyu Sentai Wairudorenjā, translated as Rescue Squadron Wildranger) it is the 1st season of AnimeLover569's Sentai series, it has a wild animal and rescue theme. It is the first and only Sentai to have both titles in English.
The series premiered on 10th of August 2020 however unlike other Super Sentai Series, its joined alongside a Precure series, being the author's first Precure Series Shining Earth Precure and recently, first Kamen Rider series Kamen Rider Savage
Plot
Evil demons that were born from shadows claim earth for their own so a team of rescuers fight against the demons to protect their planet.
Characters
Rangers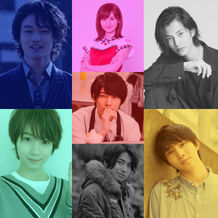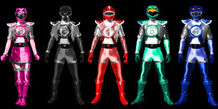 Allies
Kamen Rider Savage
| Color | Role | Actor |
| --- | --- | --- |
| Kamen Rider Savage | Takumi Yuzuki | Rui Kihara |
| Kamen Rider Growl | Koji Kurumi | Shogo Hama |
| Kamen Rider Safari | Yume Haruno | Sachika Nitta |
Ryusoulger
| Color | Role | Actor |
| --- | --- | --- |
| Ryusoul Red | Koh | Hayate Ichinose |
| Ryusoul Blue | Melto | Keito Tsuna |
| Ryusoul Pink | Asuna | Ichika Osaki |
| Ryusoul Green | Towa | Yuito Obara |
| Ryusoul Black | Bamba | Tatsuya Kishida |
| Ryusoul Gold | Canalo | Katsumi Hyodo |
Zenkaiger
Mio Kuroda
Houko Shimizu
Koji Okuyama
Civilians
Miyuki Agawa
Kai Yamano
Sae Kuroda
Ami Sakura
Kazuya Mizuishi
Villains
Arsenal
Rescue changers◆◆◆◆◆
Wolf Phones◆◆
Wild Blasters◆◆◆◆◆
Shark Blade◆
Elephant Axe◆
Tiger Shield◆
Lion Baton◆
Eagle Tonfa◆
Night Sceptre◆
Day Sceptre◆
Animal Buster◆◆◆◆◆◆◆
Mecha
Animal Rescue King◆◆◆◆◆
Wolf Rescue King◆◆
Animal Kingdom Rescue◆◆◆◆◆◆◆
Tortoise King◆
True Animal King◆◆◆◆◆◆◆◆
Zords
Shark Rescue 1◆
Elephant Rescue 2◆
Tiger Rescue 3◆
Lion Rescue 4◆
Eagle Rescue 5◆
Night Wolf Rescue 6◆
Day Wolf Rescue 7◆
Tortoise Mecha◆
Episodes
Link to the Wattpad story: https://my.w.tt/Y0U4o4tPD6
E1-New Members
E2-Team Building
E3-New friendship
E4-The Lone Lion
E5-Demon Master Runkro
E6-New weapons
E7-The strange woman
E8-Is this my dream?
E9-An unlikely duo
E10-An eagle files
E11-The shark roars
E12-Taiga's Secret
E13-Brother Wolves
E14-New rivalry
E15-A Doll's obsession
E16-Switch A Roo
E17-A New Power
E18-The power of darkness
E19-New Gattai
E20-Welcome Wolf brothers
E21-are Shinjiro and Taiga dating?
E22-A brand new Mecha
E23-powerless prt1
E24-powerless prt2
E25-Ransu's determination
E26-A brothers bond
E27-Hayato's anxiety
E28-Freaky Love
E29-A Powerful Shark
E30-Taiga's birthday
E31-Goodbye Runkro
E32-New Demon General Zepto
E33-Memory erased
E34-Strained relationship
E35-A New Threat
E36-Vampire Problems
E37-Kanata's leadership
E38-New Power Mode
E39-Christmas bonds
E40-Goodbye Father
E41-The Wolf is back
E42-A day off at the beach
E43-The Power of animals
E44-Almost dying
E45-Hayato's dream
E46-Taiga's true emotions
E47-Here comes the Master
E48-Welcome back Eiji
E49-The final battle prt1
E50-The final battle prt2
E51-The final battle prt3
Movie
Rescue Sentai Wildranger vs Kishiryu Sentai Ryusoulger
Rescue Sentai Wildranger the Movie:Through the Wormhole
Dobutsuno Sentai Ninjuuger vs Rescue Sentai Wildranger
Wildranger Returns:The Wedding of Ransu and Taiga
Special
Rescue Sentai Wildranger & Kikai Sentai Zenkaiger
Trivia
Except for the wolf duo, the Wildranger share the same animals as the Zyuohger

Sela and Kanata-Shark
Tusk and Mamoru-Elephant
Amu and Taiga-Tiger
Leo and Ransu-Lion
Yamato and Hayato-Eagle
While Misao does have a silver wolf form, technically making both Shinjiro and Akio sharing the wolf motif with Misao. Misao's primary form is his rhino form so Shinjiro and Akio don't fully share a motif with a member of the zyuohger team

Shinjiro and Akio share their wolf motif but have motifs based on different hours of the day
They share similarities with Kyoryuger, Ryusoulger and Go-Onger

The team has the same colours with the Kyoryuger and Ryusoulger
Similar to Kyoryuger both black rangers are the second members and similar to Ryusoulger both pink rangers are the third member, the green ranger is also the youngest member, like with Souji and Towa, just like with Souji, Hayato is a high schooler. All three teams with these colours have members who are flirts, Ian in Kyoryuger, Canalo in Ryusoulger and Ransu in Wildranger.
Similar to Go-Onger, the Wildranger have an animal motif and a gold/silver duo

However the gold/silver duo are brothers, not brother and sister like in Go-Onger and Shinjiro is a silver 6th ranger, making him the leader of his gold/silver duo with his brother instead of gold being the leader of their gold/silver duos

Wildranger also has some shared similarities with GoGoV

Both series are Rescue themed and the green ranger uses an air themed mecha

It also shares similarities with Shinkenger having the powers pass from parent to child but the colours arent restricted to genders, this is confirmed with Akio Inukai being the current Wild Gold and his predecessor was his mother
While the Mamoru Sentai Yajuranger were the first team that the author has created, Rescue Sentai Wildranger is the first story that the author began writing so it's counted as her first Sentai series
The crossover with the Ryusoulger was inspired from the picture Hayate Ichinose and Daisuke Nakagawa had together as Koh from Ryuusoulger and Jin from Zero One
Wildranger is the first sentai with realistic pictures which were edited by the author using GoGoV and Gaoranger, but used Zyuoh Elephant's helmet for Wild Black due to the elephant motif, the second series to have realistic edits is Gao Sentai Beastman even though it's the 3rd series
Hayato Chiba is the youngest at 16 when his actor is actually 10 years older than his character's age.
Originally gonna have 49 episodes but because of the added arc that Shinjiro will turn evil, the episodes went to 51 episodes.
The main theme in this story is love, it'll focus on love between family, friends and have a romance between Ransu and Taiga
The special with the Zenkaiger was inspired due to a dream that the author had

when the story will be written, Juran and Vroon will be written as Zyuran and Vroom, because those are the spellings that the author got used too and in a way it's still the correct spellings
Community content is available under
CC-BY-SA
unless otherwise noted.