Power Rangers Zeo - The Next Generation
Number
25
Number of episodes:
36
First episode:
A Neo Zeo Beginning
Last episode:
{{{last-ep}}}
Intro:
Power Rangers Zeo - The Next Generation/Theme Song
Adapted from:
Chōriki Sentai Ohranger
Original airing:
{{{airdate}}}
Producer
Saban Brands
Author:
Starlina

Production Order
Power Rangers Zeo - The Next Generation
is 25th Installment of the
Power Rangers - The Next Generation
universe.
Synopsis
The Zeo Crystal was originally given to Tommy, Kat, Rocky, Adam, and Tanya allowing them to become the Power Rangers Zeo to take on the evil King Mondo and the Machine Empire. Now the Zeo Crystal is passed down to descendants of the original Zeo Rangers with help from Gosei to take on a new enemy.
Neo Zeo Rangers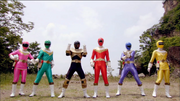 Allies
Gosei
Alpha 7
Alien Rangers TNG
Villians
Morphers
Multi-Use Devices
Communication Devices
Sidearms, Individual Weapons, and Team Blaster
Zeo Blaster
Zeo Pistol Powered Up
Zeo Laser Pistols
Zeo Laser Blades
Zeo Power Sword
Zeo Power Hatchets
Zeo Power Axes
Zeo Power Double Clubs
Zeo Power Disc
Golden Power Staff
Team Cannon
Vehicles
Zeozords System
Zeo Ultrazord: Warrior Mode / Zeo Ultrazord: Carrier Mode
Zeo Mega Battlezord
Zeo Megazord
Zeozord 1
Zeozord 2
Zeozord 3
Zeozord 4
Zeozord 5
Red Battlezord
Pyramidas
Super Zeozords System
Super Zeo Megazord
Super Zeozord 1
Super Zeozord 2
Super Zeozord 3
Super Zeozord 4
Super Zeozord 5
Warrior Wheel
Alternate Combinations
Super Zeo Ultrazord: Warrior Mode
Notes:
The Second Generation Zeo Rangers Takes on the eldest son of the evil King Mondo.
See Also
Community content is available under
CC-BY-SA
unless otherwise noted.