Power Rangers Shining Spirits is Lemurseighteen's fanon for Mashin Sentai Kiramager. It takes a queue from the older concepts of Power Rangers Coaster Force involving real players in the "Coaster Community" on YouTube. This story focuses on Koaster Kids/Thrills United community. Even though maybe these reps actually deserve their place, what if these "Kiramei Stones" were like the Dino Gems, except scattered all over the world?
Plot
The Father of the Nether Star Clan has arrived to track down the components of the Gaia Crystal. When Amanda discovers a Yellow Crystal similar to the red one around her neck, she becomes suspicious of her father.
She returns home with her sister, Natalie, to find the crystals are mysterious machines that begin to imprint on their brother, Logan, and his friends. The shiniest and most thrill-seeking team will travel the world to collect the Gaia Crystals.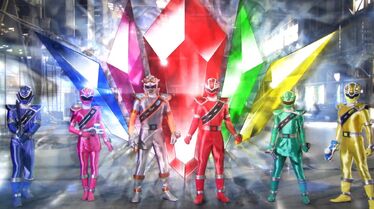 Regional Reps
These are the names of the Crystals each rep is associated with in order of the rep's debut. Maddy being the exception as she uses animal spirits, but appears in the same episode as Mulin.
Thrills United (2042)
see Also: Thrills United (Literary Guardians)
Moria Reiner
Max Joiner
Zadra Graffis
Allies
Family
Amanda Joiner (CF 29, CF38-2, 19, 37-38)
Natalie Joiner (CF38-2, 19, 37-38)
Jeff Joiner (1-7, 10-14, 16-19, 24-38)
Itai's Father (1-2)
Maddy's Father (10)
Lex (10, 35-38)
Dr. Megumei Hayami "Oba-Chan" (13)
Dane and Chappy's Mom (14)
Chappy (14, 35-38)
Billy's Mom (14)
Uncle Felix (16, 38 [archive footage])
Primary Allies
Lady Moria (6-10, 12-23, 36 [Ghost], 38 [Archive Footage])
Koaster Kids
McKinely and Caden (9 and 38 [Flashback/Archive Footage])
Maddie (15, 38 [Archive footage])
Chase (32, 38 [Archive Footage]]
Former Kid Reporters/Regional Reps
Abe (15, 38 [Archive footage])
Pablo (25, 38 [Archive footage])
Community Allies
Theme Park Worldwide (5, 38)

Alex Crump (5, 38)
Shawn Sanbrooke (38, archive footage)
Charlotte (38, Archive Footage)
Dan/Midway Mayhem (12 [mention], 19, 38 [Archive Footage])
Sean Flaharty (12 [mention], 19, 38 [Archive Footage])
Ed Hart (19 [Silhouette], 38 [Archive Footage])
Taylor Bybee/Coaster Studios (19, 30-31, 38 [archive footage])
Scott Bravenboer (22, 38 [archive footage)
Mike Graham (25 [Mention], 38 [archive footage])
Coaster Bot (38, Archive Footage)

Harry
Zoe
Joel
Aron (also mentioned in ep 22, as well as 38)
Andrew (mentioned to be attending Keys to the Kingdom in ep 19, as well as 38)
Minor Allies
The Battalion (9, 17, 38 [mentioned only])
Ashley (20, 38 [archive footage])
Seamus (20, 38 [archive footage])
Nik, Villas' roommate (24, 38 [archive footage])
Ceara Quinlin (29, Literary Guardians)
see Also: Minor Characters in Power Rangers Shining Spirits
Legendary Allies
Power Rangers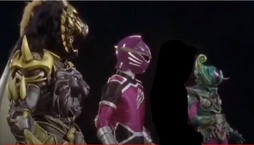 Maddy is also a member and a Phi Zhuq Master by the end of the series and the only member of Thrills United to still have powers by that time.
Kamen Riders (29)
See also: Order of the Sword
| | |
| --- | --- |
| Kamen Rider Saber | Milo Quinlin |
| Kamen Rider Blade | Tyreem Cutler |
| Kamen Rider Espada | Isabella Morales |
| Kamen Rider Kenzon | Ryo Hanarate |
Villains
Drokar (11-33, 38 [archive footage])
Sarapis (11-34, 38 [archive footage])

Phears

Water Tower Phear (11)
Locomotive Phear (16)

Darkness Beasts

Faucet Leviathan (12)
Tesla Eel (13)
Super Shark Hammerhead (15)
Diesel Thunder (16)
Battleship Granzilla (18)
Arsenal
See Also: Arsenal (Shining Spirits)
Transformation Devices
Side Arms
Individual Weapons
Action Cannon-used in Bicoline

Funidoria Hammer ❖
Mixer Laser ❖
Lifter Claw ❖
Rigger Sword ❖
Wodan Axe ❖

Hornet Dagger ❖
Special Weapons
These weapons come from the zords, or are associated with their power.
Zords
Gaia System
Rail Guardian System
Elemental System
Dairen Megazord ◆◆◆◆◆

Blaze Zord ◆
Forrest Machine Wodan ◆
Taron Zord ◆
Rescue Zord ◆
Super Rocket Orion ◆
Super Beast Liger
Super Beast Liger❖

Lion Zord (Skylar)
Tiger Zord (Sam)
Phoenix Zord System
Other Zords
Action Zords

Big Rig Zord ❖
Forklift Zord ❖
Steamroller Zord ❖
Hauler Zord ❖
Mixer Zord ❖

Beast Machines
TBA (Marc)
TBA (Tyler)
TBA (Declan)
TBA (Iacapo)
TBA (Parker)
Alternate Combinations
Gaia Megazord Funidoria Hammer ◆◆◆◆◆❖
Gaia Megazord Lifter Trident ◆◆◆◆◆❖
Gaia Megazord Rigger Shield ◆◆◆◆◆❖
Rescue ActionZord ◆◆◆❖ ❖
Gaia Megazord Form Wodan ◆◆◆❖
Gaia Megazord Wodan Saber ◆◆◆❖
Gaia Bullet Strike ◆◆◆◆◆❖
Dragstar Megazord ❖◆◆
Housekeeper Megazord ◆◆◆◆◆❖
Gattaling Megazord ◆◆◆◆◆❖
Draijan Satellite ◆◆❖❖
Striker Megazord ◆◆◆◆◆❖
Foundry Megazord ◆◆◆◆◆❖❖
Jungle Beast System (Jungle Fury)
Rampage Megazord ◆◆◆◆◆

Cheetah Spirit ◆
Jaguar Spirit ◆
Wolf Spirit ◆
Lion Spirit ◆
Chameleon Spirit ◆
Episodes
Each episode is dedicated to usually someone associated with Thrills United (Regular, Rep, or family), or an ally/friend of Logan (Alex Crump, Scott Bravenboer). Gai's focus episode is his tribute episode. There will be an episode dedicated to the artist in the coaster community.
All the episode titles are music-based. 2 come from Albums (14 and 34). Episode 10 is a phrase as the plot is music-based. Many genres and periods are represented, but there is a lean toward 80's rock and folk songs (namely 4 of the episodes are named after songs on the Longest John's album "Cures What Ails Ya").
Songs
Notes
Lemurseighteen initially thought that Taylor Bybee and his sister Rachel should be Kiramei Blue and Kiramei Pink prior to seeing the first trailer.
War Eagle is a reference to Auburn University, the alma mater of Dane and Chappy's father
Medichopper is the only zord of the original 5 to be connected to the sentai as Kiramei Pink is a surgeon

Digger is a reference to Diggerland, the other 3 are named after roller coasters

Nye and Declan are the only non-rep pair to have a multi-piece zord.

Their connections come from both being in the United Kingdom (UK), which is where the locomotive was invented and the Industrial Revolution started.

The following are siblings, thus are not counted as core or reps: Chappy (Dane's little sister), Lex (Maddy's little brother) and Amanda and Natalie (Logan's Older sisters). Like the reps, they are considered minor allies
They spend 5 episodes in Ohio, 4 in New York, and 2 in Koblenz; Japan; Louisville; Connecticut; and New Orleans
To be fair, Lemurseighteen would want to slightly alter the current logo would be to hybridize the Thrills United Logo by putting the Power Rangers lightning bolt in its place while maintaining the feel of the current logo. As for the show title part, he honestly has no idea
See Also
Community content is available under
CC-BY-SA
unless otherwise noted.