Power Rangers Gem Machines
 is the fanfiction 34th season of 
Power Rangers
. It's based on 
Mashin Sentai Kiramager
.
Plot
A princess from a land of jewels & mystical gemstones comes to Earth in search of people with outstanding charm & talent. She seeks them out to make them into warriors to defend Earth from an evil army. Five are chosen by these gemstones, which transform into sentient vehicle companions called Gem Machines. Using these powers, they fight the evil army bent on robbing people of their hope & radiance.
Characters
Rangers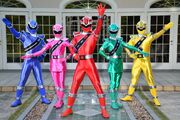 Allies
South Coast Region Tech College
Mr. Sudworth - The Geology Professor at SCRTC & the Gem Rangers' mentor.
Crystal Kingdom
King Lazward - King of the Crystal Kingdom & father of Princess Pearl.
Princess Pearl - Princess of the Crystal Kingdom & daughter of King Lazward.
Civilians
Dr. Farran Mitchell - Ally's uncle & head doctor of the South Coast Region Hospital.
Villains
Supporting Characters
Arsenal
Morphers
Gem Wheel Morpher - The morphing device of the main five Gem Rangers.
Diamond Morpher - The morphing device of the Silver Gem Ranger.
Individual Weapons & Team Weapon
Diamond Breaker - The Silver Gem Ranger's personal jackhammer weapon.
Sidearms
Multi-Use Devices
Other Devices
Zords
Main
Auxiliary
Episodes
Notes
Community content is available under
CC-BY-SA
unless otherwise noted.