Welcome to Power Rangers Fanon, The #1 Power Rangers Fan Fiction site on Fandom.
---
Welcome to the Power Rangers Fanon wiki! Here you can create your own series, episodes, or Rangers based on both Power Rangers and Super Sentai. We have over 22,293 pages here, so make sure to hop in and create your own but only if you're 13 or older.
Featured Series of the Month
Power Rangers Wild Prime
is the featured series for August 2019. It was created by
User:Starlina
. Centuries ago five ancient warriors of amazing five beasts fought an evil amazon and her henchmen and succeeded defeated her. But now ahe's back in the modern world and planning to cause madness. Standing in her way are five teens chosen by an immortal Amazon warrior and the five beasts to take the mantle as Power Rangers to defeat her. United together as Power Rangers Wild Prime!
Vote for next month's series.
Featured Series of the Year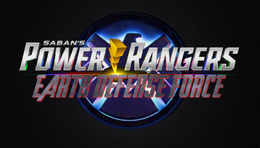 Power Rangers EDF is the featured series for 2018. It was created by User:Kamenrider2011. When G.U.A.R.D found the mysterious Star Orb, they invited a whole host of evil to want the powers it hold. These evils, like Madame Medusa, Big Brain, and Fuden are some of the most fearsome villains ever. To combat them, the Power Rangers EDF are commissioned. Together, these extraordinary people will defend the Earth from destruction. However, after defeating all of these evils, once, twice, and some of them even thrice, the Rangers' enemies team-up to form the Sinister Six Fists, and create the most fearsome being of all time. At the same time, the first Destiny Shard is revealed opening up a much bigger world...
Around the Wiki
Check out all of the series here.

See all of the different Rangers created here.

Fanmade or Adapted we have tons of Zords.

These Mecha can destroy any giant foe so check out some of these...

Without these guys who would our heroes fight?

Some of these can be for real shows or fan fictions but they still rock!

Check out these cool videos uploaded for some of our shows!

See some of these pics created by fans just like you!
Recent Activity
Here are the newest edits to our wiki.

Discord
Join us on Discord!
Click here to find out more.

If you see this, your JavaScript might be disabled or DiscordIntegrator plugin isn't working. If the latter, please contact a wiki administrator.
Contributing
Before you get started, make sure to read the rules of the wiki here.
If you want to create your own Ranger, series, Zord, Megazord, weapon, or episode here is an easy way to get started.
Need Help?
If you need help you should speak to one of our admins who can help you in no time with setting up an account, creating a page, blog, or fourm, or getting onto chat. They can also help with banning people, fixing edits, deleting pages, or correcting anything.
If you're brand new make some edits to your user page to tell them what you like and who you are.
If you need to delete a page just post it the deletion page for an admin to remove.
Canon

This wiki is a place for Fan Fiction and not for canon (meaning official) series/weapons/characters unless you are using them in your series. If you want to add stuff about real episodes, series, characters, zords, etc from Power Rangers then go to RangerWiki, the official Power Rangers wiki and add them there; NOT here.
Statistics
22,293 articles since August 7, 2008.
28,939 files uploaded.
-1 active users this month.
Community content is available under
CC-BY-SA
unless otherwise noted.