| | |
| --- | --- |
| | This article is about a/an fanfictional Super Sentai adaptation in the Power Rangers series. |
"May the power protect you."
This series has been completed. No other edits are to be made to this page nor the pages that correspond with this series.
Power Rangers Crystalizers is the fourth Power Rangers series by Gokai-Volt. It is based on the 44th Super Sentai series, Mashin Sentai Kiramager and replaces Power Rangers Jura Knights. The show's theme is vehicles and gemstones.
It is then followed by Power Rangers Zord Warriors.
Plot
Throughout time, a legend is told of five mystical warriors, with a "shining spirit", who protected the radiances and hopes of people from the darkness.
After the kingdom of Lumina is invaded by the Spiritraiders, the Princess comes to Earth in search of five warriors, each burning bright with the "shining spirit" known as "Shinetality", after hearing the legend of the five mystical warriors from her father.
Five young warriors are chosen by the Spirit Crystals, who have the ability to turn into sentient vehicle companions known as Crystalzords. Side by side, the warriors and the vehicles use their powers to defend the Earth, protecting the hopes and radiances of people from the army of darkness as the Crystal Rangers.
Characters
Rangers
Crystalzords
Allies
Civilians
to be added
Power Rangers
Villains
Arsenal
Transformation Devices
Individual Weapons and Team Weapon
Sidearms
Other Devices
Zords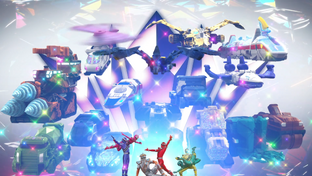 Crystalzord System
Legend:◆ main Zord, ❖ auxiliary Zord
Auxiliary
Crystalzord Weapons
Additional Formations
Episodes
The episodes in this season are referred to as CARAT.
Movies
TBA
Gallery
Rangers
Trivia
The name, Crystalizers was inspired by NicholsonD's latest Power Rangers fan opening.
See Also
Template:Navbox/Gokai-Volt
Template:Power Rangers Seasonbar (Gokai-Volt)
Community content is available under
CC-BY-SA
unless otherwise noted.