Gender:
Female
Season(s):
Space Patrol
Colors:
Pink
Homeworld:
Earth
First Appearance:
Last Appearance:
Number of Episode
Appearances:
Actor:

Miyoko Washi is the love interest and girlfriend of Takeo Shishi from Power Rangers Space Patrol, who later becomes the second Eagle Pink after the first one gives her life force to save her.
Character History
to be added
Eagle Pink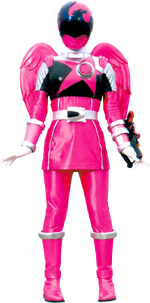 Arsenal
Zords
Notes
Portrayal
Behind the Scenes
Of the 88 modern constellations, they represent Aquila, "The Eagle"
Eagle Pink is the first Pink Ranger and first Female Ranger to have an Eagle as part of her motif. This animal motif was originally used by male Rangers only, the most prominent being Red Rangers such as the preceding Red Eagle Ranger.