Gijutsu Sentai Technoranger (Technology Squadron Technoranger) 
is a series requested by 
Box of Kratos
 and created by
Sonic Flash
. It's based on 
Power Rangers Syber
, which was created by 
Box of Kratos
.
Plot
In a world where technology made one of it's biggest advancements, crimes also reached their limits. A scientist named Dr. Osaka built himself as a robot and created an army full of robots so that he can loot the resources of the planet and conquer it.
To prevent this hap, there was one hope: a special police organization called the Techno Squad. The organization recruited five young teenagers to fight the crimes by becoming the Gijutsu Sentai Technoranger. 
Characters
Rangers
| | |
| --- | --- |
| TechnoRed | Takeru Kai Nohara  |
| TechnoBlue | Kenji Matasaki Nohara |
| TechnoGreen | Shinosuke Yoshiki |
| TechnoBlack | Takemoto Yoshirou |
| TechnoYellow | Takeshi Sakamoto |
| TechnoSteel | Fudou Joshirou Nanohana |
Villains
X-treme Empire

Knight BakuChi
Gokamoru
Zeltar
Lady Gold
Footsoldiers
Potato Knights: Primary footsoldiers
Mushroom Knights: Most powerful footsoldiers
Monsters
​Allies
Arsenal
Techno Changers: Morphers for the core TechnoRangers
Techno Sword: Standard sidearm sword for the core TechnoRangers
Spinzooka: Standard sidearm blaster for the core TechnoRangers
Steel Sword: Standard sidearm sword for TechnoSteel
Vehicles
Techno Driver: Standard travel bike for the core TechnoRangers
Quasar Truck: A monster truck like bike for TechnoSteel
Mecha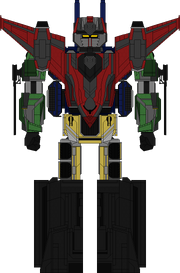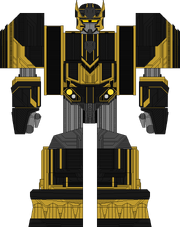 TechnoMax Robo ★◆◆◆◆◆◆➲

Double Techno Robo ★◆◆◆◆◆

TechnoRanger Robo ◆◆◆◆◆

Techno Jet I ◆
Techno Tank II ◆
Techno Heli III ◆
Techno APC IV ◆
Techno Cannon Driver V ◆

TechnoSteel Robo ◆

Techno Buggy ◆
Steel Dozer ◆

Techno Battleborg ★
Episodes
A Techno Beginning
Pentuplity
Best of Five
World of Fools
Trust and Treason Pt. 1
Trist and Treason Pt. 2
Quest for a Leader
The Perfect One
The Dreamworld
Crack in the Brick
Dawn of Destiny
Steel to the Rescue
Test of the Sixth
Baked In, Baked Out
Takeshi's Dillemma
Soul Extractor
In Nowhere
In the Cowboy's Hat
Tooth Mania
The Awful Bite
Squeezy Cheesy
All Hail Knight BakuChi
Disguised in Black
Wanted
Cyber Mania
Laughing Out Loud
The Calming Dawn
The Shutdown Pt. 1
The Shutdown Pt. 2
The Shutdown Pt. 3
Notes
This is the first Super Sentai series to be based on a Power Rangers series. (PR Syber)
Community content is available under
CC-BY-SA
unless otherwise noted.