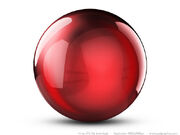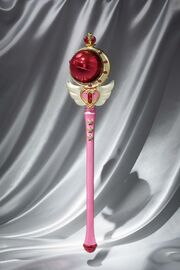 The Essence of Edenoi is a mystical orb made up entirely of vast natural energy contained in a red regal-looking pouch and this immense natural energy is actually belonged to the ancient and majestic planet of Edenoi. It first appeared in the 2nd episode of the third season to the TV series Mighty Morphin Power Rangers: Revisited titled "The Essence".
This very concentrated life essence was created through magic in hopes of rebuilding the Edenite people's home planet, thus bringing back Edenoi to its former glory. The second object, when combined with the power of the Essence, is the Zeo Crystal.
The Essence is hidden away within a garden in the ruins of a temple located somewhere in the Edenite city of Karratesh (where the Edenoi Royal Palace is located).
Once the Rangers learn of Prince Alpha's eventual ascension to the throne, they agree to help him by hiding the Essence somewhere in Angel Grove. A series of double-crosses (some well-intended, some not) leads to a face-off over the Essence. In the middle of this, Lord Zedd appears, grabs the pouch containing the essence and escapes back to the Moon Palace with Rita close behind.
Alpha is despondent when he learns that Zedd and Rita made off with the Essence. What he does not know, is that the pouch Zedd has is a decoy with maggots inside it and the Rangers had successfully managed to protect the Essence, thereby preserving the hope of the Edenite people. Furthermore, to both Prince Alpha and the Rangers, the Essence of Edenoi actually revealed to be a scepter because Alpha told everyone that it was one of the Edenite crown jewels. Now the Essence of Edenoi is within Prince Alpha's safe keeping where it belongs, thanks to his friends.
The Essence, in its scepter form, later became the primary weapon of Zeo Ranger VI Silver when the Zeo Blaster was formed for the first time.
Community content is available under
CC-BY-SA
unless otherwise noted.